Megan Jones | James Deacon | Margaret Jones | Peter Jones | Isabelle Weber | Kate O'Brien |
Staff Team
Margaret Jones
Margaret is the matriarch of Kirby Park Stud. Being able to get the day to to day life of KP up and running is not an easy task but Marg gets it done day in and day out. Her attention has now been turned to the Kirby Park RIding School which she now runs in conjunction with trail rides, adjistment being a mother and wife..
It is her vision, hard work and terraforming that has established the Stud. Along with her industrious work ethic Margaret also has 2 foals on the ground, Emma and Megan. As we all know in the Equine world of breeding… 'it is all about the mare' and how true that is in this instance.
Margaret is also the Health Light expert and general 'Guru' when it comes to the care and maintenance of our equine friends, and she can step in to anyone's shoes when the need arises. A true jack of all trades the Stud could not function without Margarets input and knowledge.
Peter Jones
RP1 (royal photographer 1), MI (Master irrigator), CH (Chief horticulturalist) Peter has definitely taken control of his area of expertise. With laser levelled manicured lawns and an irrigation knowledge like no other our onsite expert is quick to eliminate air blocks, long grass and and shabby lawn care. 'Pedro' is also the official 'Royal Photograhper' at KP who makes the trips to the interstate comps for rare sightings of the Royal KP princess, also any photo shoots at home also require the attention of the acclaimed 'RP1'.
Always a smiling face and quick to make a joke with all our staff Pedro brightens up the day of everyone he crosses paths with at KP.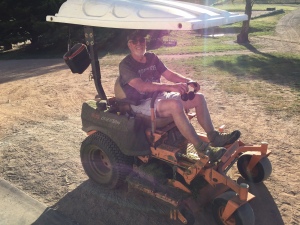 James Deacon
James was contracted to join the stud in 2011, after review of his contract he realised that braking of contract conditions would be far more severe than enduring the working demands of KP, he decided to stay and has slotted in well with the rest of the crew. Aside from his professional career as Megans lackey, James helps out on the farm with what ever needs doing, he drives the truck to all the events, is the resident chef at home and at the events for all of our girls, helps treat the horses and keeps Megan in ready 'race mode'. Another individual who helps make up the team it takes to help Megan do what she does. James also helps out with Megans Sponsorship commitments, horse owners, and marketing.
James has inherited the ride on Megans own KPI Jester to compete in the lower grades of eventing. Festy just loves being back out in the eventing scene and the smiles on both the boys faces are priceless.
Isabelle Weber
Isabelle joined the team at Kirby Park in July 2012 from Sweden where she was grooming at a Swedish eventing yard, having recently graduated from Equine Boarding School.
She competed to 1* and hoping got progress to 2* . 'Izzy' has taken over one of our own home bred horse Kirby Park Irish Apollo (Wallace). With a very long road of training behind the combination we are proud to say that Izzy and Wallace are finally getting there. With wins and placings starting to roll in the pair air aiming for the 1* class in the 2015 season and we are so excited for our super Swede to get there.
Not only succeeding with her own personal riding career she has helped take a huge weight from Megan's Shoulders, taking over a some of the in saddle work of our young horses and fitness work. This has been a huge relief from Megan's 24/7schedule and we are all very appreciative of what you do for us here at KP.
She see's herself being a long time in Australia, moving up the ranks in the eventing world, we have finally secured a 4 year visa for our Swede so we are very lucky to have her for another 4 years!
Victoria Wilkonsen

'Vic' Came to us from a Dressage stable in Sydney in late 2014, with a string of failed grooms we didn't know what to expect for the latest applicant. We interviewed, spoke to references, spoke to past employers, stalked face book etc. Vic had arrived whilst we were away competing so we weren't able to give her an introduction to the property, existing staff, horses etc. this worried us but not Vic, she jumped in at the deep end and not only kept her head above water but built a superyaucht to float in!!!One of the reasons Vic came to an eventing stable was because she herself wanted to get back in the saddle. We thought why not give this a shot..
As we all know…. no one is perfect however Vic gives it a red hot go every day she is on the yard at KP. Her ability to manage, delegate, listen and learn is very impressive. over the coming months we should have the little things sorted which will see her immersed fully into KP life. One thing we love is there are always (as long as it isn't too early in the morning) smiles and laughs coming from the property when vic is around. Any workplace is so much more enjoyable when there is laughter and fun, Vic thanks for your positive outlook on life, thanks for your love of our horses and thanks for your friendship, we look forward to a long association with you.
Vic also has an eventer of her own to ride whilst she is with us, she has been training and jumping over the recent months and will be out 'on course' in the 2015 season. She is fast building up a social network and though in its early stages local love interest has already appeared, keeping her cards close to her chest we will hopefully have some more news for you all in the coming weeks of 2015.