Megan Jones Riding School Call 0435 831 304
Trail Rides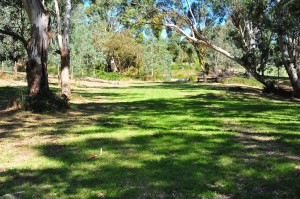 Our trail rides are a unique and relaxing way to enjoy the Adelaide Hills near historic Hahndorf on horseback, with a chance to see wild kangaroos and native birds in their natural habitat as well as our foals frolicking.
The trail rides follow the cross country course and will take about an hour.
You will be guided by our qualified, friendly instructors so that your trail ride will be safe, comfortable, fun, and educational.
Suitable for any level of rider and guided by qualified, friendly instructors.
Horses or ponies will be selected to suite the riding skills of the participants.
Booking are essential, for details and bookings call Margaret Jones on 0435 831 304.
$90.00 (inc. GST) per rider.
Riders must be 7 years or older. Trail riders must not exceed 100kg
Stay and Play                                                                                                 
For the people who arent confident to go on the trail ride, stay back with our friendly staff in our new 'stay and play' program. Perfect for families or groups who have younger kids, elderly or people who are just not confident to go on a trail ride, clients can stay behind whilst the other members of the family leave for their trail ride. Whilst back with our staff you can learn about our horses, pat, groom and play with the ponies and horses on the ground level. For those ho wish to do so we also include a pony ride around one of our enclosed arenas.
$44.00 (inc gst)
 
Other Equestrian Events                                                                         
We also offer trail riding, school holiday workshops, birthday parties, corporate team building days and rides for any special occasion.
For details and bookings about any of these equestrian events call Margaret on 0435 831 304